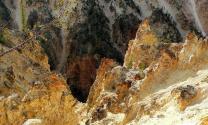 The Chief Executive Officer of Bank Nizwa, Jamil Al Jaroudi, is hoping that the bank will be able to post a profit within two and one half years of launching operations, which is planned for the coming month.
"We aim to make our first profit in 2014 though we would like to make it happen sooner in the first year of our operation but that may not be possible," Jaroudi said in an interview.
The board will be elected when the shareholders meet this coming July 31st, Jaroudi added.
"We will start our operation two weeks after that with three branches, in Nizwa, Sohar and Muscat. Eighteen months after the start of our operation, we hope to open about seven branches nationwide," Jaroudi also said.
Bank Nizwa is the first bank in Oman run according to Islamic law. Nizwa's initial public offering raised RO 681 million ($1.77 billion) in bids, 11-fold the amount that it sought to raise, reflecting the powerful interest the enterprise has for investors.
Jaroudi was happy for the over-subscription to the IPO from investors, and commented that it was a positive indication that the bank will be successful. He mentioned that he hoped that the returned funds will be used as deposits in the bank by their new and loyal customers.
"It shows that we are well placed and there's a healthy appetite for a fully-fledged Islamic bank in Oman," Jaroudi added.